F.A.Q.
Frequently Asked Questions
How long are reading sessions?
30 minutes, 45 minutes or 60 minute sessions
Should I have some questions prepared before a reading?
You may wish to have questions prepared or an idea briefly on why you are wanting a reading if you do not have questions prepared that is fine.
Do you allow recording during a reading?
Yes. You are more than welcome to record our session. We understand that sometimes we don't remember everything that was said.
What is the difference between a psychic and a medium?
The word "psychic" describes a wide range of senses and perceptions which uses the five physical senses of sight, hearing, taste, touch, and smell. Psychics receive information about events, places, people and life situations from the vibrational energy of a person, place, or thing. A psychic can "read a person's energy" and may perceive past, present, or future events in that person's life.A medium communicates directly with spirits. Every medium possesses psychic ability but not every psychic possesses the mediumship abilities.
What is a medium?
A medium is a connection between the physical and spirit realm on the other side. Mediums connect to our past loved ones, the main purpose of a medium is to pass on messages from the other side to the client or family providing closure and peace. Not all loved ones or spirits will connect with a medium as afterall they also have freewil. 
How is the reading conducted?
A reading is conducted by greeting the client, an introduction to how Alex reads will be explained and what you can expect during a reading with Alex. Alex then opens the connection to spirit and allows his Spirit Guides or team to begin channelling information that is presented to him by loved ones, Guides, Angels and so forth. Alex gathers his information from Psychic downloads, Spirit, Numerology, Tarot, and Clairvoyance. The messages may be presented to Alex as symbols, names, energetic feelings, inner knowing, visualisations like movie clips (clairvoyance) or even feelings into the dramatic events that may have played out. Once the reading is finished Alex will go over the information and provide any further information to the client. 
All readings are private and confidental. 
How does spirit provide you with information?
Connecting and communicating with spirit isn't a click of the finger genie in the bottle moment. Spirit is energy, mediums have a sense or feeling like a radar that allows them to have an inner knowing of when Spirit is connecting.
Spirit will give you signs or feelings of how they passed, for example, the medium may feel chest pain which may indicate to a heart attack or an issue with the heart that caused the passing or trigger. Spirit may also present the medium with a movie clip or show flash backs of the person-situation or what they want to say. Spirit works in all different ways.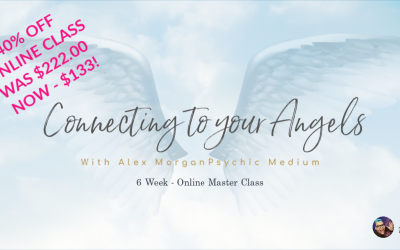 16/04/2020 Your Angels have answered your prayers!  Connecting to your Angels Online Master Class with Alex Morgan Psychic Medium is now 40% OFF! - WAS $222.00 - NOW $133.00 OFFER ENDS APRIL 24TH BOOK NOW TO SECURE A SPOT - LIMITED AVAILABILITIES  Are you new to the...
read more
PHONE
0457 030 948
Email: info@alexmorgan.com.au
Drop Us a Line
Don't be shy. Let us know if you have any questions!
The Spirit world is always listening